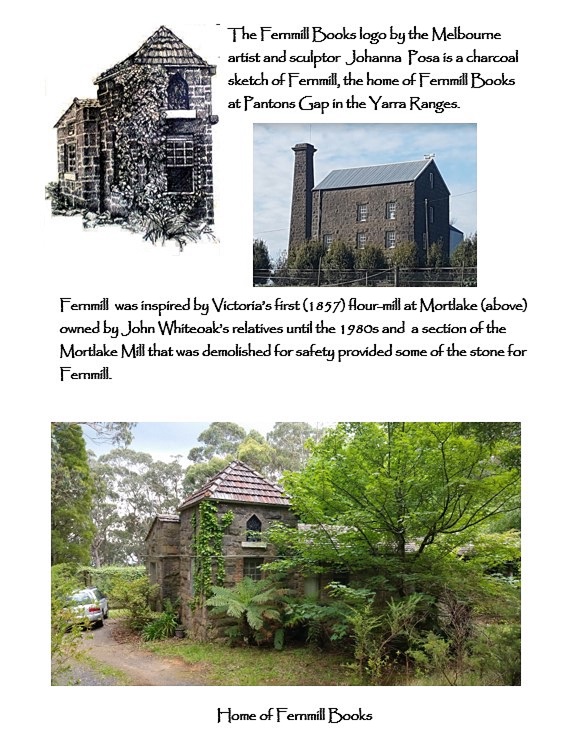 ABOUT FERNMILL BOOKS 
Fernmill Books is a not-for-profit publisher established by John Whiteoak to facilitate the publication of scholarly music or music and/or dance-related book manuscripts. Manuscripts accepted by Fernmill Books are house-style edited and formatted except where deviations from house style are negotiated between the author and publisher.
Cost:
The author pays for printing by the Fernmill preferred printer (or a printer of the author's  choice) and the ISBN (International Standard Book Number). Other possible expenses include printing out the manuscript to edit in hard copy and check all formatting prior to printing or commissioning a professional cover designer, proof-reader or indexer.
 Submission:
 Submission is by invitation only and text must be clear and concise throughout and, ideally, proof-read.  Provide the file in Word with the text in Times New Roman 12-point font and not right-justified.  Notes should be presented as foot-notes for house editing.
Do not imbed any tables, indexes, graphs or images into the manuscript file that is to be house-edited.  Just indicate in the text where these are to be positioned.
Obtaining copyright permissions is the responsibility of the author.  
Referencing has to be clear and consistent throughout. For example: 
Journal:
Anthony Bourke, 'Carimina and Company', Music and Dance 7 (August 1960), 25.
 Newspaper Article:
Diana Marquez, 'Passion Plus Dignity—Spanish Dancing', Sydney Morning Herald, 18 June 1960, 18.
 Book:
William Starling, Strings Attached: the Life &​ Music of John Williams (London: Robson, 2012), 44-50.
Conference Paper:
John Whiteoak, 'Some More Bagels and Bongos: the Jewish-Latin Connection in Australian Popular and Light Music History', J Cattermole, Shane Homan & Graeme Smith (eds.), Instruments of Change: IASPM Australia –New Zealand Conference Proceedings 24-26  November 2010 (Melbourne: School of English and Performance Studies/School of Music, Monash University), 168-9.
Fernmill Books in Print:
Jill Humble,  Keith Humble, Music and Me—Memories of a Shared Life.
Mark Pinner, Brass Bands in Colonial New South Wales a Social History. 
Max Richter. Riding the M E G A T R O P I S Life, Music and Work as a Jakarta Volunteer.
Forthcoming:
 Kenneth White, 'The Artist Who Can Draw Jazz': a Seven Decade Odyssey Through Melbourne's Art, Music and Poetry World.
 ,